I am a Ne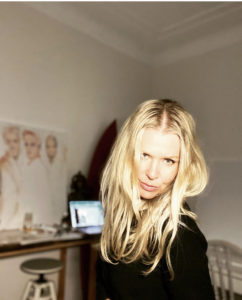 w Zealand born Artist, Creator and Entrepreneur currently based in Bondi Beach, Sydney, Australia.
I was chosen as an 'Artist to watch' amongst a strong emerging talent of Artists in the 'One to Watch' series released by Saatchiart.com. My paintings, artworks, illustrations are featured and recognised in international art, fashion and design reference books and magazines.
I attended Parsons school of Art in NYC briefly and due to a family tragedy we had to move back to AU.  As a Fine Artist my paintings and artwork hang in many private collections around the world and I have exhibited in Australia, UK, Europe and the USA.
"I am interested in layers, and what it is to be human, sensuality, and what it is to be female in the world. My work has been described as hauntingly beautiful, whimsical and magical, and my portraits focus on the eyes which I believe are the windows to the soul."
I continue to expand my repertoire of skills and talents not only an artist but also as a creator and entrepreneur.
For prints of my artworks



You can find all my links to socials here